A Cartagena Bachelor Party Headquarters
Imagine this: It's your best mate's last night of freedom before tying the knot and it's your job to make sure that he has the best night of his life. You could hire dancers or go to a club, but frankly, isn't that a little overdone? Instead, kick it into overdrive with a bachelor party in paradise.
Just an easy 3 hour flight from Miami International Airport, Cartagena is serviced daily by ultra-cheap JetBlue flights so you and your friends can party caribbean style. Our team understands that sometimes the best bachelor and bachelorette parties can't be defined by money. We have tons of incredible options depending on your budget so we can give you the best Cartagena VIP bachelor party of all time!
HOW TO PLAN A BACHELOR PARTY IN CARTAGENA ?
Need some ideas for your Cartagena, Colombia best bachelor party? Some of our most popular ideas include:An all-holds-barred blowout with a private DJ, bartender, and a squad of cheerleaders, ALL on the deck of a private yacht! Remember, what happens in Cartagena, stays in Cartagena. A rave weekend for fifty of your closest friends on a private Caribbean island, surrounded by miles of crystal clear, aqua-blue ocean. With blasting music and plenty of beverages to drink, partygoers will be talking about this one for years to come!
A massive-scale pool party in a giant colonial mansion! Jam-pack the house with friends and invitees while our DJ and bartenders kick the party into next gear
WHY HI CARTAGENA ?
Hi Cartagena is simply the best in bachelor party solutions. We aim to please even the most selective of tastes. We offer a variety of packages to suit any need and will take care of everything needed in regards to your celebration. From accommodations, transport, and club entry, Hi Cartagena has you covered. Book the Colombia bachelor party you deserve and let us handle the rest!
From the second you arrive at the Rafael Núñez International Airport, you will be catered to 24/7 by our city concierge. This friendly, local attendant will act as your guide, translator, will run errands for you, and will give you the best recommendations for restaurants, shopping, and adventures in Cartagena.
Cartagena is one of the most trendy cities in Colombia, and it's our mission to provide you with memories to last a lifetime. We'll show you around town and take you to the best clubs, festivals, concerts, and restaurants so you return home with plans for visiting our city again! Whether it's a beach party, a rooftop dance club, or a swanky soirée, our team at Hi Cartagena will make sure you and your friends get the amazing experience you deserve.
At Hi Cartagena, we promise to match this level of service with all of our clients. Whatever your wish and whatever your budget, we have a solution for you.
Bachelor, Finding a place to stay in a new city can be really difficult especially if you don't know your way around yet.
Enjoy your bachelor and get the best of Cartagena. Live the best luxury bachelor party ever.
Bachelor, Party the day away with DJs, professional chefs, jet skis and even a helicopter! Even midnight BBQs on deserted islands. Have the best bachelor party in Cartagena ever.
Bachelor ! Most of our accommodations include pools and what better way to enjoy a pool than to throw a full-blown pool party. Imagine your Bachelor Party in a wonderful swimming pool..
We'll round up a squad of hot colombian girls in skimpy bikini's to add to the guest list, track down the hottest dj in town and grab our skillful bartender to keep the drinks flowing all day long.
Do you want enjoy your Bachelor Party? Do you want a VIP reservation at the best club or restaurant in Cartagena for your bachelor party? Or how about a great Tour, a Yacht Party, a Private Chef or DJ? Our City Concierge is waiting for your call to make anything you want possible.
Hire your own personal chef who will make sure you and your gang are fully nourished and ready to take on the crazy weekend. Your Bachelor Party and your own chef in the same place. Enjoy with your friends In your bachelor party while your chef cook amazing food for you.
Bachelor party ?We cater to groups of as few as eight to as many as 300. All you have to do is show up with your BFF's and enjoy. Contact us for sample catering menu and accommodation rate package prices.
GOLF EXCURSION A DAY ON THE GREEN
Bachelor, Play golf before your bachelor party. Maybe you're a seasoned golf pro or just someone looking to have a lazy day, enjoying the weather and shooting the breeze in Cartagena with your friends at the famous Karibana Golf Club.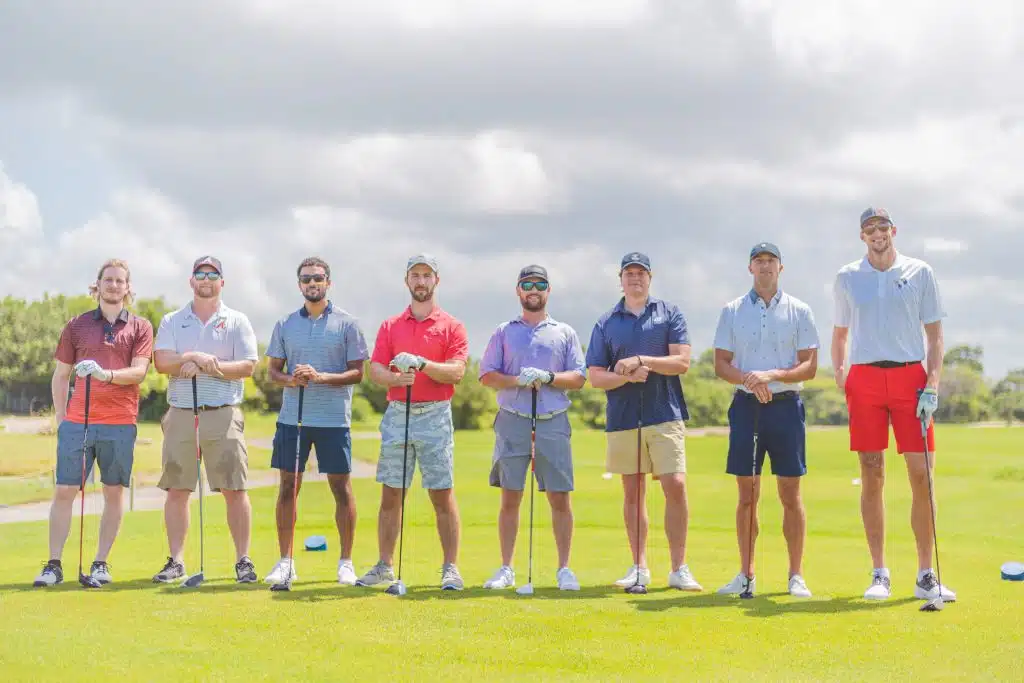 Bachelor Party Experience
The spice of life and most memorable experiences have always been during travel. We take these experiences and memories with us through life like badges of honor, retelling them countless times and reliving them through each and every recounting. These are our war stories of this day and age. The biggest milestones for a man nowadays are losing his viginity his 21st birthday and his Bachelor party! Most will say it´s their wedding day but what we really think about was the Bachelor party. Every man´s Bachelor party is a rite of passage, we all have such great aspirations and a longing to have the most memorable and wild Bachelor party to hold on to through the more serious and responsible part of life. It´s the last hurrah of a bachelor to show his crew that even though he´s getting married, he´s still lad at heart, down for anything and ready to ride or die with his mates. We´ve all heard our fathers or grandfathers talk of the camaraderie they had during war time, unless you´re in a street gang or biker gang this type of camaraderie is lost on our generation but we seek it out and our only equivalence is our party friends. Most of us have our childhood friends and the lucky ones have our university and fraternity gang. We need this camaraderie to keep us in check, sane and most of all young! Movies and urban myths have given us all a benchmark to hit, if your Bachelor party was legendary you´ll always have that to regale and hold on to through the rest of life.
Movies like "The Hangover" and "Very bad things" glamourize the big, luxurious Vegas style Bachelor parties but the price and consequences of "out of control" behaviour are exorbitant. Everyone loves status and prestige that comes with a Vegas Bachelor party but not all of us are ready to invest that kind of capital right before a wedding and the stress and worry of consequences Vegas offers are serious. The next best thing… Travel. Colombia offers everything and more than you expect. Cartagena is an unspoiled gem that has offered refuge to all those who need it, from the Spanish Conquistadors, Caribbean pirates to expats wanting to get away from the judging eyes of society. There´s a good reason people keep coming here to let go and enjoy life, anything goes. And if you´ve gone too far…not to worry, it´s easy to solve and get out of any problem you may get into. If it´s your Bachelor party, your last hurrah as a single man, you don´t want to hold back. It's your right as a man to push the limits, break rules, get as nuts as you need to before tying yourself to the one woman it takes to tame you. Without the war stories of our grandfathers, this is our legacy to greatness that we´ll talk about until we´re too old to remember. But no one wants to go to jail or break the bank doing it. Cartagena is a city, haven, really a magical destination to experience. Safe, luxurious, modern and best of all inexpensive. The COP peso has been at an all-time low for the past few years, great for all travellers and investors. Choosing Cartagena as your best Bachelor party destination is a guarantee for a legendary celebration for any budget. Luxurious opulence to affordable functionality, there´s everything you can ask for in Cartagena.
Cartagena
Accomodations
Cuisine
Party Favours
Ballin' Yacht Parties